The 2005 Tribospec / Sunoco Lubricants Ontario Legends Series got off to a great start Saturday with a 17 car field at Peterborough Speedway. "We are doing somthing different this year because we want to put on a better show for the fans" said Paul Yarrow the Ontario Legends Series promoter, "To do this we will have double file starts and restarts in the heats and the feature race and the previous weeks winner will start at the back of the pack so every feature the fans can watch one of the top drivers work thier way back to the front".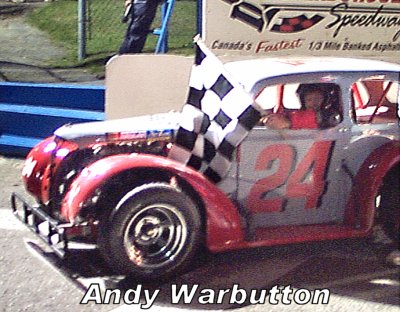 Well it worked the fans got to see close starts and finishes as the defending Ontario Legends Champion Andy Warbutton (# 24 Nascar A-Zee) won the first feature race of the year with Steve Navratil (#55 Super Tint) second and Bruce Grimes (# 88 Tascor Construction) rignt on Steves bumper for third.
The heats had Steve Navratil and Andy Warbutton winning one each and Rob Degeer (#37 H B Cycle) winning two heats.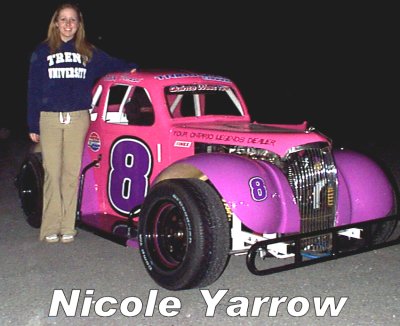 The Peterborough fans had a chance to vote for the best looking Legends car and the winner was Nicole Yarrow's #8 Hutchinson Fuels Car .
Our next race is at Peterborough Speedway, Saturday May 14th.