Steve Navratil (55 Super Tint ) gets his first feature win and takes over the points lead as the Tribospec / Sunoco Lubricants Ontario Legends put on another great show for the fans at Peterborough Speedway.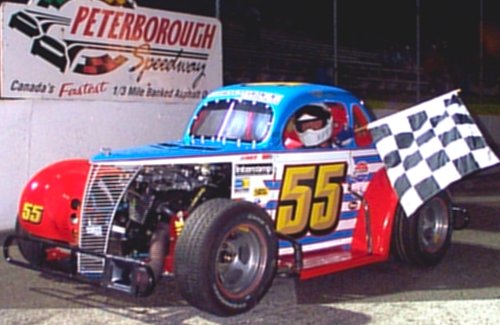 Steve Navatril Super Tint / Security Muffler (he lost the fender in a heat race wreck)
The feature race started with Kevin Fletcher (# 1 Broadway Well Drilling) on the pole, Bruce Grimes (#88 Tascor Const.) outside pole, Steve Navatril behind them and, the last feature winner, Andy Warbutton (#24 Shoeless Joe's) at the back of an 18 car field.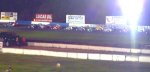 Feature pace lap with an 18 car field
Up front Kevin Fletcher, Bruce Grimes and Steve Navratil traded spots but at the back Andy Warbutton was on the move until he got to 9th, behind Jim Cuthberston (# 64 D. S. Martin Mechanical). "Every time I went to pass Jim there was a lap car in my way" said Warbutton, "I thought there were 40 cars on the track..... to win in racing you need a fast car, skill and luck and tonight I didn't have any luck.... I was faster than Jim but I could not get by him."
What a show, watching Warbutton trying to get by Cuthberston as they both worked their way through the field. Cuthbertson got by Nicole Yarrow (#8 Hutchinson Fuels) on the last lap for 4th leaving Warbutton in 6th. Results
Nicole Yarrow went home all smiles with a 5th place finish but most of all she was proud to come in ahead of Andy Warbutton.
The heats had Andy Warbutton winning 2, Steve Navatril and Kevin Fletcher with one each.
Our next race is at Peterborough Speedway June 4th and Steve Navatril will start the feature at the back of the pack.... good luck Steve.