Peterborough On.- By R. Wayne Geen
Bruce Grimes made the trip from his Brighton-area home to Peterborough Speedway a worthwhile one on June 11, as he led every lap of the twenty-five lap Tribospec / Sunoco Lubricants Ontario Legends feature event at Peterborough Speedway's one-third mile oval.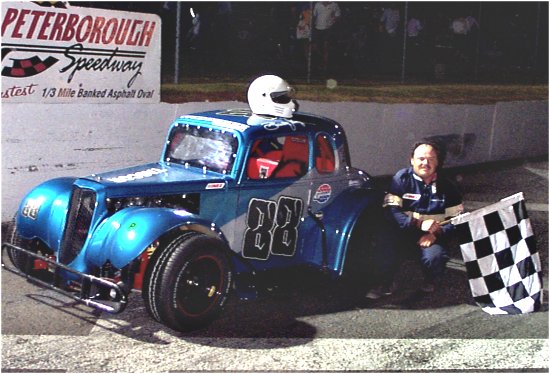 Bruce Grimes # 88 Tascor Construction, Need for Speed first feature win.
Grimes (#88 Tascor Construction), along with Frank Johnston (#20 Kriska Transportation) and Steve Navratil (#55 Super Tint) opened up a three car length lead on Scott McLean (#61 from Nova Scotia) and Rob Degeer (#37 HB Cycle), who were fighting for fourth and fifth position.
Navritil then got past Johnston for second spot, before McLean dropped Johnston back one more position on lap nine.
Grimes and Navritil then opened up a fifteen car length advantage over McLean, who in turn was five car lengths ahead of Johnston, Andy Warbutton (#24 Shoeless Joes) and Degeer.
Across the finish line, it was Grimes, followed by Navritil, Warbutton, McLean, Degeer and Johnston. Results
Winning heat races were Degeer, Navratil, Warbutton and McLean.