From the Pits - by Don Kahn
It was hot at Peterborough Speedway Saturday as the Tribospec / Sunoco Lubricants arrived for practice. As everyone unloaded thier cars and equipment the talk was all about the weather and the last three feature races being caution free.
That all changed when the cars went out for the first practice and Andy Warbutton (#24 Shoeless Joe's) came out of turn 2 behind Nicole Yarrow (# 8 Hutchinson Fuels). Down the back strech Warbutton went to pass Yarrow on the low side and the two got together getting Warbutton air borne and landing on Yarrow's left front corner. This put Yarrow's car out for the day but Warbutton was able to repair the damage to his car with a right front fender from Yarrow's #8 car, some help from other teams and a bunch of new parts. (Pink looks good on your car Andy)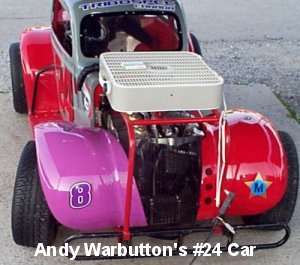 Warbutton was able to get out for 5 laps of practice which allowed him to make a few adjustments to the repairs before the heats.
Yarrow was able to practiced in the #42 Tribospec / Sunoco Lubricants School Car.
Their first heat had Yarrow finishing 8th and Warbutton 2nd behind Bruce Grimes (#88 Tascor Construction).
Yarrow was at a disadvantage as she was in a car that was setup different than her own car but Warbutton was able to make a minor adjustment to get his car back to what it was before the accident.
In their second heat Chris Maracle (#23 Barry's Hot Rods) got together with Yarrow (now in the 42 Car) and sent them both to the pits. With 2 Laps to go Grimes leading, being hounded by Warbutton for most of the race, left room for Warbutton to get by on the low side comming out of turn 2. Grimes said "I thought he (Warbutton) would pass on the high side so I went low to let him by but Warbutton was down there and that got me spinning. When I got stoped I was in the middle of the back stech looking at the cars comming at me." Warbutton and a few other cars made it by but Adam Cuithbertson (#79 Metal Center Systems) couldn't quite get high enough and he hit Grimes head on at full speed. (Both drivers walked away)
The Red Flag came out and the race ended giving the win to Frank Johnston (#20 Mel Johnston Chevrolet) as Warbutton was black flagged for rough driving and Grimes going to the back as an involved car. Warbutton said "I saw an opening and took it then Grimes came down on me. If Grimes didn't spin then I woud have won."
The feature had Grimes and Warbutton both starting at the back, Grimes because he won the last feature race and Warbutton because he didn't get any points for the second heat. Once again the feature was caution free as Warbutton worked his way through the field to take the win and Bruce grimes Made it to 4th driving a different car.
The big winner for the night was Steve Navratil as he takes over the points lead but he didn't come out with out a scratch, someone (Jan) wrecked his front fender when it got hit with the air tank.
That's the way I saw it anyways.
If you have a story from the Ontario Legends Pits send it to us at ontariolegendsracing@sympatico.ca