Rain delay at Kawartha Speedway puts the Tribospec / Sunoco Lubricants Ontario Legends Series feature on hold until August 12th.
The legends completed all 4 heats with wins going to # 20 Frank Johnston's Kriska Transport, # 24 Andy Warbutton's Shoeless Joe's, # 37 Rob Degeer's HB Cycle and # 55 Steve Navratil's Security Muffler but the Hutchinson Fuels feature was cancelled. Hutchinson Fuels did, however, help out by keeping the pace car dry.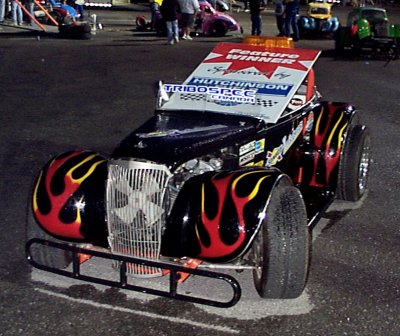 After a lengthy rain delay, Derek Lynch, Kawartha Race Director, said he would reschedule the race. With only one more apperance scheduled at Kawartha this year it was decided to reschedule and add another apperance for August 12th. The extra date will include the July 8th feature race (only qualified cars) and a complete nights racing for all. The Legends features will be sponsored by Hutchinson Fuels.
The Ontario Legends now travel to the world famous Mosport Speedway for the next race July 16th.
Will the local favorite and former Mosport track champion Andy Warbutton be able to break the first place tie and take over the points lead. Steve Navratil, tied with Warbutton in first place, and Bruce Grimes, only 5 points back of the lead, both want to take over the top spot.
Come on out to Mosport Speedway Saturday July 16th and see what happens. Gates Open 5:30pm Racing Starts 6:30pm.