July 30, 2005 - Peterborough, Ontario - by Don Kahn
Tribospec / Sunoco Lubricants Ontario Legends Series driver Mike Thompson has a hit on Country 105 - 1420 CKPT Radio billboard. The Uxbridge Ontario, racer was singing the praises of his safety equipment after he lost control of his # 49 Spacesaver Filing Systems car. It went up the wall in turn 2, across the Royal billboard sign, along the top of the wall and hit the Country 105 billboard, exploding the sign into thousands of pieces, going over the wall, rolling over at least 4 times and finally stopping at the bottom outside of the turn 2 wall. Out of sight but not out of mind as everyone at Peterborough Speedway waited in silence for word on his condition.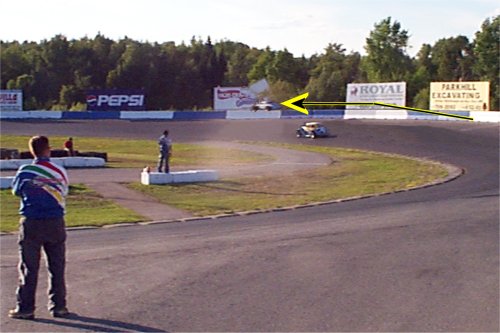 The path that the car traveled
The safety vehicles and ambulance where there in seconds. As the St. John Ambulance crew jumped over the wall the driver gave them a sign he was ok and a huge round of cheers and applause erupted from the stands as the word came over the PA system. Yet another, a few minutes later, as he climbed over the wall, waved to the crowd and walked to the ambulance for a checkup.
Just as the car hits the billboard
On returning to the pits Mike said "The Hans saved my life.. I hit that pole so hard it threw me forward until I felt those things snap on the side of my head (the Hans restraints) and it held me back and I slid down (into the seat)... you could imagine how long my neck would have been... I went so far forward I hit my knuckles on the dash." Then he asked (like a typical racer) how bad his car was. "I was worried about the engine." He then walked over to his car to survey the damage.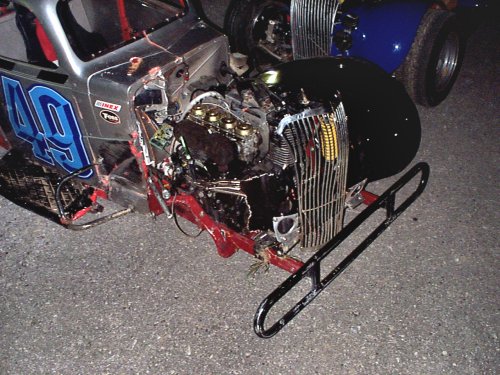 The bumper is fine!
All the safety equipment did what it was meant to do. The seatbelt kept him in the seat, the Hans device kept his head on his body, the roll cage kept him safe from the roll over and the front wheel absorbed a lot of the impact as it broke off.
It was not the kind of hit that a radio station usually plays and one that Mike Thompson definitely does not want repeated but as soon as he gets his car repaired he will be back. We are not sure about the billboard.