August 6, 2005 - Bowmanville, Ontario - by Don Kahn
Tribospec / Sunoco Lubricants Ontario Legends Series rolled into Mosport Speedway for the second of two visits there this year with only one point separating the top two drivers. Andy Warbutton of Oshawa, # 24 Shoeless Joe's car, leads Steve Navratil of Little Britain, # 55 Super Tint Inc. car, and in third place Bruce Grimes of Carrying Place, # 88 Tascor Construction 18 points back of Navratil.
The heat races became a draw for Warbutton and Navratil with a win each but in third place Grimes fell further back as he lost a second engine this year and came in last in his heat.
The feature race started with rookie Chad Windsor, # 5 Wright Excavating, on the pole, Rob Degeer, # 37 H B Cycle, second, Kevin Fletcher, # 1 It's a Wrap, third, Steve Navratil fourth, Andy Warbutton fifth and Bruce Grimes starting scratch in a the borrowed # 13 H B Cycle car (thanks to Don McNabb for loaning your car to Bruce).
Within a couple of laps Navratil took over the lead leaving Warbutton in fourth place.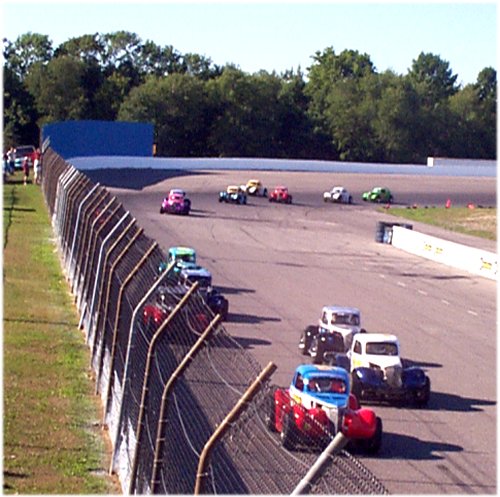 Navratil takes an early lead
Navratil's lead was short lived as, a few laps later, Warbutton got his nose under Navratil coming into turn three but not quite able to complete the pass as they headed down the front straight.
Warbutton & Navratil battle for the lead
Turn one had Warbutton completing the pass. For the rest of the, caution free, race Navratil was knocking on Warbutton's back door, going high and low trying to get by right down to the last lap when Navratil dove down low coming to the checker flag.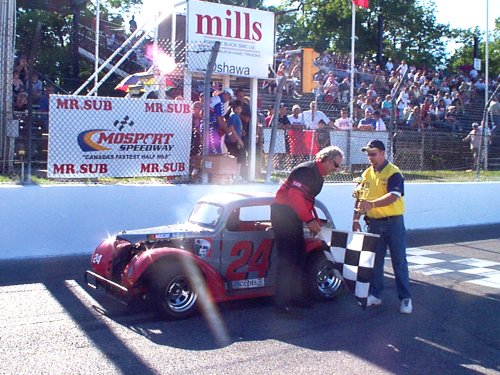 Fastest Finisher Winner Andy Warbutton # 24 Shoeless Joe's
Warbutton won the "Foss Fastest Finisher" by less than half a car length and picked up the trophy and $1000.00 from Foss Transport.
Navratil, Degeer,Fletcher and Jim Cuthbertson, #64 D. S. Martin Mechanical, rounding out the top five. Results
The Ontario Legends now head to Kawartha Speedway for a Friday night double feature. The first feature is a points make up race that will have Steve Navratil starting at the back. Now six points back of Warbutton, you can bet Navratil will do anything to close the gap or even take over the lead.
The heats and second feature are a non Ontario Legends points, race. These drivers are out in these heats and second feature just for fun but they are racers and nobody will give an inch.