August 20, 2005 - Peterborough, Ontario - By R. Wayne Geen
If it hadn't been for starting with the pole position, Andy Warbutton admits he probably wouldn't have won the Hutchinson Fuels twenty-five lap Tribospec/Sunoco Lubricants Ontario Legends Series feature race on August 20 around the one-third mile Peterborough Speedway oval!
"The car wasn't one hundred per cent," said Warbutton after the race, adding he "lucked out and had the pole position."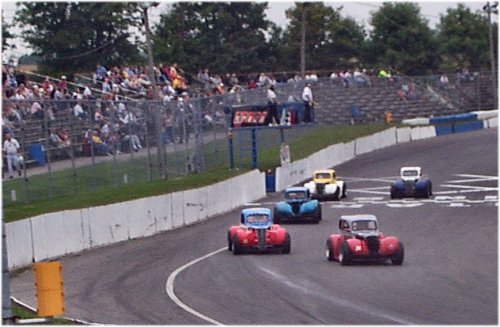 Warbutton (#24 Shoeless Joes) and Steve Navratil (#55 Super Tint)) quickly jumped into single file at the start of the event, followed by Bruce Grimes (#88 Tascor Construction), Kevin Fletcher (#1 It's A Wrap)) and Rob Degeer (#37 HB Cycle).
Five car lengths behind the lead pack was a fierce battle being waged for sixth through ninth between Frank Johnston (#20 Mel Johnston Chevrolet), Bill Mason (#4 Cathy's Creative Sweing , Nicole Yarrow (#8 Hutchinson Fuels) and Chris Maracle (#23 Barry's Hot Rods).
Navratil tried the high side of the track in an effort to get by the leader, but his efforts were constantly thwarted.
"I also had to watch those guys behind me," Navratil noted about Degeer and Grimes, who were only a couple car lengths, back the entire race.
On a couple of occasions, Navratil bumped Warbutton as the pair raced out of turn two.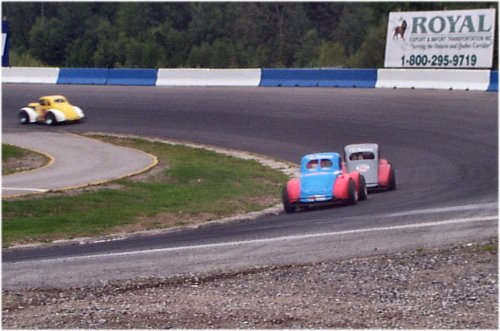 "He just wouldn't let me by," he said. "Andy was really running the inside line; he was really protecting it carefully."
Following Warbutton across the finish line were Navratil, Degeer, Grimes and Yarrow.
Heat race winner were Navratil and Grimes.